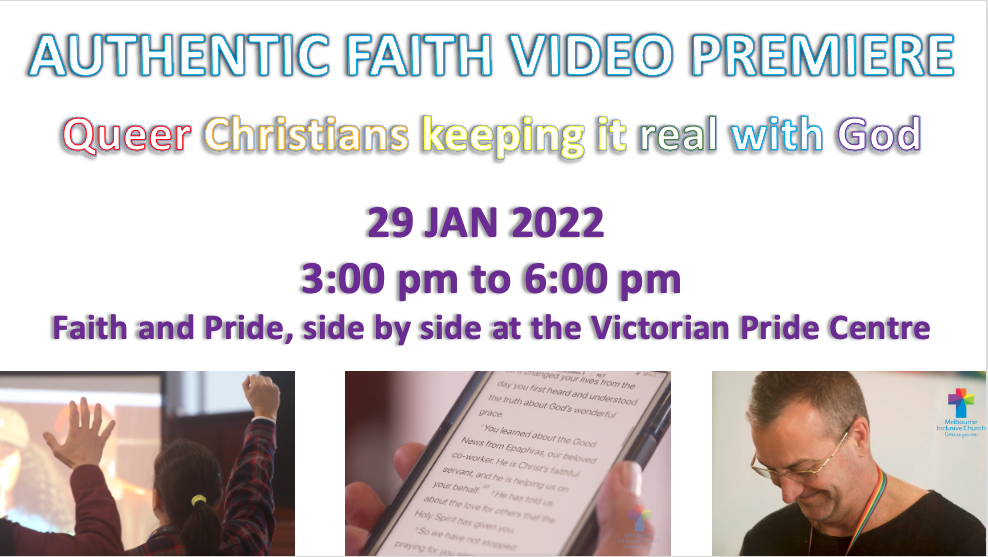 Local Time
Timezone:

America/New_York

Date:

28 Jan 2022

- 29 Jan 2022

Time:

23:00 - 02:00
Authentic Faith Video Premiere
Queer Christians-Keeping it real with God.
We will premiere our Authentic Faith video. After the video we will hold discussions via speed networking.
When we keep it real with God we discover that God is not angry with us. God has great plans for us as God's rainbow children. We may have felt rejected by other members of the Body of Christ, but perhaps we have just been redirected to a place of complete freedom to be who God created us to be all along.
The rejection was wrong and thank God we survived (not everyone has) but now it's time to thrive in relationship with our creator.
Snacks and drinks will be provided.
Melbourne Inclusive Church boldly and proudly proclaims Christ's equal love for all people regardless of their ability, socio-economic status, sexual orientation, age, gender or culture. For more information contact us at: https://www.michurch.org.au/contact-us/